Priority and Emerging Investments 2018–2019
Since the initiation of BTU—Partnerhsips at Work for Greater Baltimore, one of President Kim Schatzel's presidential priorities, members of the Towson University community have been hard at work establishing the internal infrastructure, alignment of resources and application process for community engagement projects serving Baltimore and the greater Baltimore region. With that in mind, the BTU Leadership Team and BTU Council are thrilled to announce that eight partnerships have been named priority and emerging community engagement projects for the 2018–2019 academic year at Towson University.
The full resources of TU were brought to bear on the vetting and awarding of these investments. The projects emerged from a university-wide application process, a budgetary review using the resources within the Division of Strategic Partnerships and Applied Research, the BTU Investment Review Panel representing the entire TU campus and the formation of 'pitches' for members of the Towson University Board of Visitors.
These investments represent a significant cultural shift to sustain, scale, align and institutionalize meaningful community engagement at Towson University.
TEAB: Teaching Environmental Awareness in Baltimore
Dr. Sarah Haines, Biological Sciences
Partner: National Aquarium
Towson University is recognized as Maryland's preeminent teacher education institution and a national model for professional educator preparation. TU's Fisher College of Science and Mathematics has a distinguished history in the preparation of STEM classroom teachers and STEM education specialists. The National Aquarium educates more than 150,000 Maryland schoolchildren a year, both at the Aquarium and in the classroom. The Baltimore City Public Schools administration has a goal of bringing each middle school student in the school system to the National Aquarium for the "What Lives in the Harbor?" program.
Investment Support Goals
BTU Priority Investment Support will sustain and scale the project in three important ways: (1) conduct a more rigorous evaluation of the program; (2) disseminate results to a wider audience; and (3) improve the experience for the BCPSS students by providing more water quality monitoring equipment for them to use during the pier program. Towson University will help Baltimore City school children meet their environmental awareness core requirement.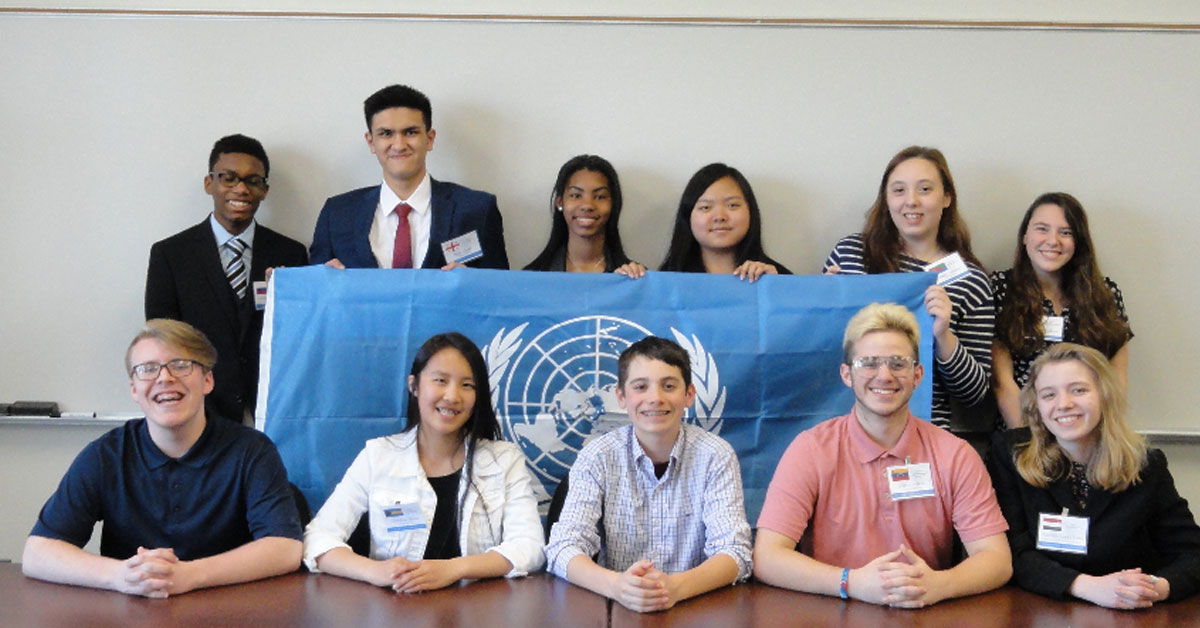 TU–BCPS Model United Nations Conference
Dr. Alison McCartney, Political Science
Partner: Baltimore County Public Schools
Civic education has declined in recent years, leaving a gap in education and civility that is having negative consequences for global, national, and local politics. The TU–BCPS Model United Nations program helps to fill that gap and teach all participants how to effectively work with others, respect diversity, and positively engage with their communities. Through the program, Towson University provides both high school and TU students opportunities to learn about global and local issues from TU professors; research the cultural, economic, and political perspectives of other countries on these issues; and engage in the proven, high-impact, active-learning pedagogy of role playing.
Investment Support Goals
BTU Priority Investment Support will help move this successful program to a national model of equity and respect for diversity in educational opportunities and college exposure.
College of Education and Urban Education
Dr. Jessica Shiller, Instructional Leadership & Professional Development
Partners: Baltimore City Public Schools, Afya Public Charter School, Calvin M. Rodwell Elementary School, Forest Park High School
Baltimore City has suffered decades of disinvestment in its communities and schools. This puts city schools in a state of crisis year after year, leaving city students without the support they need to enable their academic careers. This project will mediate the impact of this divestment by literally investing university student and faculty time and energy into these school spaces. As a central part of the project, students learn about community schools and spend time in them, working with community school coordinators in the programming that they do. The main expectation for TU students is to support a project that the community school needs.
Investment Support Goals
BTU Priority Investment Support allows TU students and faculty to respond to our partners' call for an intentional and longer engagement from TU in Baltimore City schools and to continue to focus on racial inequity and understanding of Baltimore.
GIVE: Grantwriting in Valued Environments
Dr. Zosha Stuckey, English
Partner: Friends of Patapsco Valley State Park, North Korean Refugees in the United States, Safe Alternative Foundation for Education, Tubman House
Grantwriting in Valued Environments (GIVE) is a BTU supported project that advances TU students' professional writing goals by connecting their coursework to the writing needs of small non-profit organizations (NPOs) in the Baltimore/Washington region. Most of the organizations Dr. Stuckey and her students work with have never written or submitted a grant. GIVE allows small, community NPOs a chance to compete in a philanthropic economy that necessitates receiving income from more than just private donations and fundraising events. TU students provide research, write and submit grants for GIVE partners; provide narrative and text that helps tell the story of organization; and offer help with other writing genres.
Investment Support Goals
To date, GIVE has received $173,530 in grants, all going directly to NPOs. Through BTU support, GIVE will expand its reach both internally at TU through additional courses and resourcing and externally by recruiting additional NPOs to assist. With a focus on cultural competence, this project helps the university achieve goals related to diversity and inclusion. The project also brings practical, and vocational skills to English and to Liberal Arts majors as they enter Maryland's workforce.
Inside-Out Prison Exchange
Dr. Elyshia Aseltine, Criminal Justice
Partners: Baltimore County Detention Center (BCDC), Harford County Detention Center (HCDC), Jessup Correctional Institution
Inside-Out courses provide unique opportunities to bring TU students and incarcerated students together inside a correctional institution to learn together as peers. Participants read a variety of texts and write reflective/analytical papers; during class sessions, students discuss issues in small and large groups. In the final month of the class, students work collaboratively on a group project aimed at addressing a shared social justice concern. Outside students develop more nuanced and realistic perspectives of the criminal justice system, as well as more humanistic and accurate views of the people who are involved within the criminal justice system.
Investment Support Goals
BTU Emerging Investment Support will allow this project to grow so that it can be offered to more TU (and inside) students and offer more courses each semester at prison facilities. A larger goal is to work on prisoner reentry into higher education.
BCCC Refuge Youth Partnership
Dr. Kate Collins, Master of Arts in Interdisciplinary Arts Infusion
Partners: BCCC Refugee Youth Project, Patterson High School
Dr. Huili Hong, Elementary Education
Partners: BCCC Refugee Youth Project, Moravia Park Elementary School
These two projects represent the coordination of faculty from two different colleges working with the same community partner toward common curricular and engagement goals. The YAAAS partnership is a three-way partnership between Towson University, the BCCC Refugee Youth Project and Patterson High School, a Baltimore City school in southeast Baltimore with a significant immigrant and refugee population. The project employs a learning laboratory format where graduate students (working teachers) and refugee students work side by side as collaborators. TU students get an on-the-ground experience working in an impoverished community while refugee students find a nurturing and safe space to learn. There is also a special group of students among the English learning language population who resettled in Baltimore City as refugees. Nearly half of the 1,049 refugees are children or young adults. With their interrupted life and education, they are in great need of help with academic learning (language, literacy, and other content areas) as well as socialization. Both of these programs working with the BCCC Refugee Youth Project represent important work with this community in Baltimore City.
Investment Support Goals
Provide working teachers with an in-depth understanding of arts methods and processes that can meaningfully support and engage refugee youth when English proficiency is limited. Identify the refugee ELLs literacy learning needs and capitalize on their own cultures and languages to optimize their academic learning across social, linguistically, cultural, geographic boundaries.
Women's Leadership at Towson University
Dr. Nancy Grasmick, Presidential Scholar for Innovation in Teacher and Leader Preparation
Partner: Junior Achievement of Central Maryland
Towson University already has successful programs for women, but they are currently somewhat fragmented and spread throughout the university. The project coordinators and participants will work with external partners who can "prime the pump" of eager young women who have an interest in career leadership at a young age and help to steer them to TU where they will receive knowledge, skills and experiences in leadership in a safe environment.
Investment Support Goals
The goal of this project is to bring the sponsoring women faculty and staff together with external partners to integrate, improve, and expand what they do, and earn TU the title of "Gold Standard for Women's Leadership."
Advanced Forensic Field Investigations
Dr. Dana Kollmann, Anthropology
Partner: Bay Area Recovery Canines
The impact of the Advanced Forensic Field Investigations project is multi-faceted. TU students are already doing something that no other forensic students are doing—that is, regularly working cold and missing person cases at the request of law enforcement. Because of these experiences, TU students are securing forensic positions in a highly competitive job market that often requires some sort of experience, even for entry-level work.
Investment Funding Goals
TU is clearly establishing a name for itself in the forensic sciences. TU donors, Sandy Hopkins and Michael Hogan founded the program with a generous gift in 2011, out of a desire to help families of missing persons receive the compassionate support they received from Dr. Dana Kollmann and TU students when their son went missing. With investment support, more can be done including the integration of drone and ground penetrating radar technologies to further enhance this work and allow the resources of TU to help more law enforcement entities and communities with families of missing persons.
Goals of BTU Priority and Emerging Investments
The goal for the BTU presidential priority is to establish the scaffolding and support that exists broadly across the TU campus to resource and support the community engagement efforts of our students, staff and faculty. Through the BTU framework, these projects will have a particular focus as the university essentially 'wraps their arms around' these projects bringing the specialized knowledge of advancement, grants, marketing and communication, academic affairs, student affairs and others throughout the campus to help them succeed. And, most importantly, providing a consistent and constant capacity for community partners to provide feedback and guide community engagement projects in their communities and institutions.
Are you a TU faculty, student, or staff member? Learn more about BTU resources available to you.
In addition to support for these projects, faculty, staff and students at Towson University can request BTU support on three different levels including enrichment support that will bolster and strengthen existing or emerging BTU engagements and partnerships, national visibility support for faculty and staff presenting at national community engagement conferences, and transportation support for bringing partners to campus or taking TU faculty, staff, or students off campus to engage in a partnership or collaboration.
We are just getting started. The application process for BTU priority and emerging investments for the 2019–2020 academic year have already started as we further embolden the strong community engagement efforts of our campus community and our Baltimore regional partners.