Despite the growing demand for a strong workforce in computing and STEM, equal access to STEM education has been a formidable challenge. Historically underrepresented communities typically have less access to quality STEM programs and teachers across the K-12 spectrum. Thanks to the tremendous support from Maryland State Department of Education Robotics Program and BTU—Partnerships for Greater Baltimore, TU's College of Education faculty are able to develop a robotics program, TU-COE Robotics Program, to broaden participation in robotics education and promote equity and excellence in computing and STEM.
TU-COE Robotics Program is a free, in-person program hosted on the TU campus. In spring 2022, the program welcomed its first cohort of participants from the Greater Baltimore area. The group consisted of 12 public school students from grades three through seven, including seven African American and two Hispanic/Latino American students. Five students came from schools for low SES communities. From February to May, the participants came to TU on weekends and completed a series of sessions that were thoughtfully designed to spark the participants' interest in STEM topics and support their computational thinking development. An integrative Mars-themed curriculum was implemented throughout the program. During the sessions, the students discussed space science and astronauts, explored 3-D models, constructed engineering structures, coded robot movements, etc. The program ended on May 21 with a celebration event at TU's planetarium co-organized by faculty from the College of Education and the Department of Physics, Astronomy & Geosciences. More than 30 community members, including the robotics program students, families and friends, joined the celebration.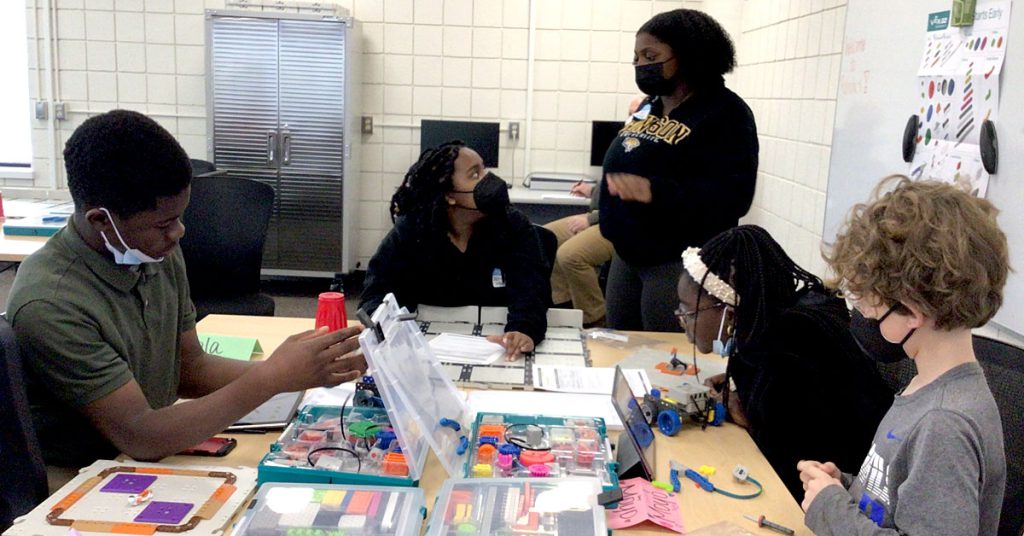 In addition to supporting knowledge and skill development in computing and STEM, the program encouraged social interaction, promoted cultural awareness, and highlighted STEM professionals from diverse racial, gender, ethnic backgrounds throughout the sessions. All students were encouraged to share their knowledge, experiences, and questions. They all collaborated in various building and coding projects under the guidance of the robotics coaches, three of them were pre-service teachers from College of Education and one of them was a Baltimore County Public Schools high school junior. Both the students and the coaches had enriched program experience through authentic participation and engagement, due to the numerous opportunities to share, to try, and to communicate.
Success of the TU-COE Robotics Program has been reflected by the following:
A strong attendance rate throughout the program
Increased knowledge and understanding in science, engineering design, coding, and teamwork
High student satisfaction (4.3 to 4.9 out of 5 on session surveys)
Positive feedback from parents. For example:

"This program is one of the best [she] has attended—informative, engaging and challenging. [She] enjoyed it so much and we think this is one of the best ways to get her ready for the future. We've been very grateful for this experience."

"Thank you for everything. This has been wonderful!!!! [She] definitely wants to apply again, and we will make whichever day work!"

"Thanks ma'am for having [him] through the program. It is indeed very much positively impactful to him."

"Thank you so much for the opportunity to be a part of this program. Yes, we are interested in the next program."

"[He] really enjoyed the opportunity to participate in the robotics program this spring. He would like to continue in the fall if possible."

Positive experience and learning growth of pre-service teachers. For example:

"It was fun seeing the students build and be creative. Another part that I enjoyed was helping the students put the code with the robot. Having them operate it and helping them through the challenges made me feel like I was teaching them a skill of problem solving."

"[B]eing in robotics, it did show me that I am learning from the students as much as they are learning from me."
The TU-COE Robotics Program has shown great potential to grow. We are actively pursuing internal and external grants to continue and expand this program in the coming academic year. We will continue to involve pre-service teachers and high school volunteers in this program. We have now formed a research team to conduct studies on robotics education, using the TU-COE Robotics Program as the research site. As the program develops, there will be lots of opportunities for faculty, staff and students to get involved. This includes opportunities for supporting program recruitment and continuation (e.g., promoting the program among families and communities, applying for grants), designing and facilitating robotics sessions (e.g., instruction, facilitation, tutoring) and conducting research.
Note, Liyan Song, Scot McNary, Huili Hong, and Christine Engbert were contributing authors to this post.